Ariel Gore is the editor & publisher of the Alternative Press Award-winning magazine Hip Mama and the author of eight books. Her latest, The End of Eve, chronicles her years spent caring for her dying mother. The memoir has been called "Terms of Endearment meets Whatever Happened to Baby Jane?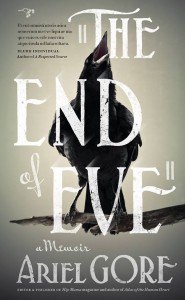 "The depth of insight of The End of Eve often took my breath away. Not to mention its drop-dead humor, the sadness, and the rage. Ariel Gore's memoir is in its essence a how to book. In the face of death, our grief, how to breathe, how to be brave, how to be funny, how to be authentic. How to make it through. But most of all: tenderness—-how Ariel puts human tenderness on the page is an act of poetry damn close to sublime.
–TOM SPANBAUER, In The City of Shy Hunters
"Ariel Gore takes some of the heaviest life work–caring for a difficult, terminally ill parent – and somehow through her writing transforms it into a funny, interesting, moving experience. Her work is like origami in that way–capable of changing one solid thing into something entirely different, and beautiful, because of the way she looks at the world. Totally unique, and very inspiring."
CORIN TUCKER, Sleater-Kinney
You can read the Kirkus review of The End of Eve here.
And you can read Ariel's blog on writing memoir right here
Ariel Gore's previous books include the bestselling Hip Mama Survival Guide (Hyperion), The Mother Trip (Seal Press), Oregon Book Award finalist Atlas of the Human Heart (Seal Press),  Whatever, Mom (Seal Press), The Traveling Death and Resurrection Show (HarperOne), How to Become a Famous Writer Before You're Dead (Three Rivers), and Bluebird: Women and the New Psychology of Happiness (Farrar, Straus, and Giroux).
She's also edited half a dozen anthologies, including Breeder (Seal Press), The People's Apocalypse (Lit Star Press), and the LAMBDA-award winning Portland Queer (Lit Star Press).
Ariel lives in Oakland, California, and teaches online at Ariel Gore's School for Wayward Writers.